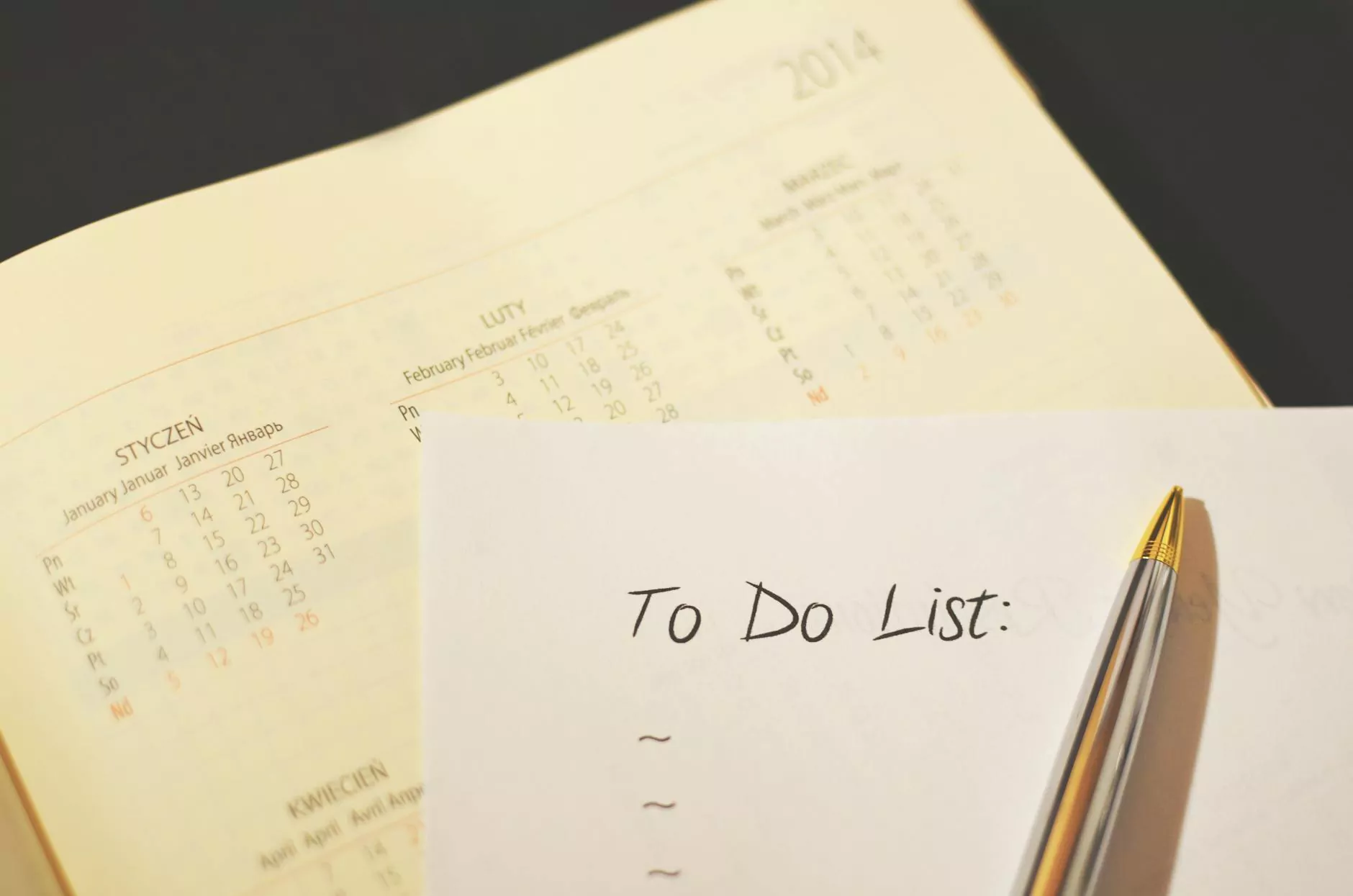 Welcome to ATM Marketing Solutions, your trusted partner in providing top-notch business and consumer services. As a leader in website development, we understand the challenges agencies face when managing multiple tasks simultaneously. In this comprehensive guide, we will present you with the ultimate todo list to effectively manage your ever-growing workload and streamline your operations.
Why is Effective Task Management Crucial?
In the fast-paced world of website development and digital services, successfully executing projects requires impeccable task management. By efficiently managing tasks, agencies can meet deadlines, stay organized, and provide exceptional services to their clients. Without a proper todo list, it's like herding cats - chaotic and ineffective.
The Ultimate Todo List for Agencies
1. Prioritize Your Tasks
Start by defining the most critical tasks that require immediate attention. Prioritizing ensures that you focus on the most important assignments first, preventing any potential bottlenecks.
2. Break Down Projects into Smaller Steps
Large projects can be overwhelming, so it's crucial to break them down into manageable steps. This approach allows for better tracking and a clearer understanding of the progress made.
3. Assign Specific Deadlines
Assigning deadlines to each task helps create a sense of urgency and accountability. Clearly communicate the deadlines to all team members involved to ensure everyone is on the same page.
4. Maintain Clear Communication Channels
Open and consistent communication within your agency is vital for smooth task management. Utilize collaboration tools, such as project management software or instant messaging apps, to keep everyone informed and aligned.
5. Delegate and Empower Your Team
Avoid the temptation to micromanage and learn to delegate effectively. Empower your team members by assigning tasks according to their strengths and expertise. This not only increases productivity but also fosters a sense of ownership and professional growth.
6. Regularly Review and Evaluate Progress
Perform regular check-ins to review the progress of tasks and projects. This allows you to identify potential issues early on and make necessary adjustments to stay on track.
7. Embrace Automation and Technology
Take advantage of automation tools and technology to streamline your processes. Automation can help reduce manual tasks, minimize errors, and increase overall efficiency.
8. Learn from Every Completed Project
After completing a project, take the time to gather feedback and analyze the process. Identify what worked well, what didn't, and implement improvements in future projects.
ATM Marketing Solutions: Your Partner in Excellence
ATM Marketing Solutions is your go-to agency for superior website development and business services. With a track record of delivering successful projects, we have the expertise and dedication needed to help your agency succeed.
Why Choose ATM Marketing Solutions?
Experience: With years of experience in the industry, we have honed our skills in managing complex tasks and projects.
Expert Team: Our team consists of highly skilled professionals who are committed to delivering exceptional results.
Cutting-edge Technology: We leverage the latest tools and technologies to ensure efficient task management and outstanding outcomes.
Customer Satisfaction: Our top priority is your satisfaction. We strive to exceed your expectations and provide you with unparalleled service.
Comprehensive Solutions: From website development to digital marketing, we offer a wide range of services to meet all your business needs.
Contact ATM Marketing Solutions Today
If you're ready to experience the benefits of effective task management, contact ATM Marketing Solutions today. Let us help you navigate the challenges, streamline your operations, and take your agency to new heights. Join hundreds of satisfied clients who have chosen us as their trusted partner in success.
Remember, herding cats may seem impossible without the right strategies in place, but with ATM Marketing Solutions by your side, you can transform chaos into seamless operations.
Contact us now to discuss your project requirements and start your journey towards success!